Two words... Angry Birds. If you have an iPhone, iPod, or even Nokia N900 you probably have heard about this addictive game. If you haven't then you have no idea what you're missing.

Angry Birds is a funny challenging logic game involving lots of destruction. With cartoon-like graphics, unique gameplay, perfectly composed soundtracks and hilarious sound effects this outstanding game is definitely the best of the best on the iPhone.

Don't get me wrong I am not promoting the game I'm just admitting how good it is. I also want to brag about it too. Yes you read right, BRAG! I've succeeded in becoming number one on Kuwait leader board managing three stars in all levels and completing the game %100.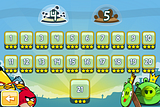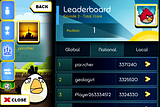 "I don't mean to brag, I don't mean to boast. But I'm like hot butter on your breakfast toast." -Someone.

Now that I have documented my success and got that competitive obsession out of me feel free to knock my off the leader board because I quit. :)