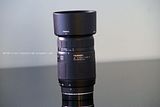 Taken with Sony SAL18200
Thanks to my friend Q817 at Q8speed.com I got my hands on a new lens for my Sony A100 DSLR. It may not be the best lens in the market but it's a good add-on to my fresh collection alongside my trusty 18-200mm Sony lens.

The casing quality is good with a mix of solid plastic and metal mount. It has a tele-macro switch to enable macro focus between 180-300mm but it's quite inconvenient without tripod. It weighs nothing compared to metal lenses so the weight is good.

The only downside is when using auto-focus, it's a bit slow but that shouldn't be a problem for someone who uses manual focus.

Lens Price: 7 KD!! (90% sale)

Some pictures I managed to take using the lens...