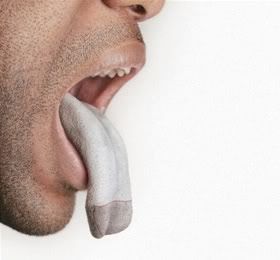 Today I've had it with people who have bad breath. I got stuck at Al-Sabah hospital waiting to get an appointment for my mom from 8am till 11am but that wasn't the problem.

It all started at around 9am when the crowds started to flood the hospital, all seats were taken except one right next to me. I was sitting there minding my own business when this guy who happens to have the stinkiest breath in the whole universe came and sat next to me. I didn't have a problem with that until he opened his mouth to start a conversation, everything started to look blurry and I felt dizzy from his breath!

Few minutes later I couldn't resist so I took a walk in the hall to catch my breath and when I came back my seat was taken, I was so relieved. I waited for a while and I got another seat far from him. The moment I thought I was safe the guy next to me got called by the Dr. and Mr. Skunk Mouth took the opportunity to come and sit next to me again so he can continue on chatting! Everything went from blurry to dark!

I kept breathing from my mouth just to avoid the smell of his breath hoping my name is next but no, for two hours neither I got called for nor he closed his mouth. I don't even remember what the hell he was talking about, all my concentration was on how to keep avoiding that sewer hole!

Finally I got called up. I have no idea how I survived two hours. His breath stinks so damn bad it even has a sound of it's own! Imagine a smell that has a sound of impact! Yes, that's how bad it was.

Next time I'll make sure I bring some fruit flavored candy/gum to offer for such people.