I would like to send out the biggest and loudest curse in the whole universe to the BMW 730Li driver (License plate 246999) at Mishref Co-op for delaying me on one of my busiest days ever by parking with almost zero clearance and about 30cm from my door making me unable to squeeze myself in, and also for making me look stupid jumping from passenger seat to driver seat after waiting for +15 minutes without her showing up.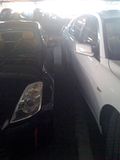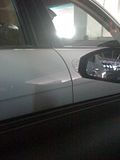 We have said this a million times before and I concur once again; women cannot drive and probably never will be able to drive properly, except some odds. They should be locked up in the trunk and a male driver takes them from point A to B.
DISCLAIMER:

Some people were questioning my credibility and I how I knew it was a woman without seeing her in person. Well I have stated in my first comment to my fellow friend iNoor that there was a scarf on the seat and women gloves on the center console. How is that for a fact?