TV is not an essential part of my life; my mac and mobile are more sacred to me than TV. However, sometimes I find the necessity of having to watch TV generally for football and to break boredom until recently when my last receiver got busted (server closed). Hence I went on looking for an alternative and finally got my hands on the ultimate receiver. Some of you already know it, some don't... It's called DreamBox DM500S.

Showtime, Orbit, ART, Jazeera Sport +1 & +2...etc. all working fine. Even Home Cinema channel playing all movies without ordering them! 70 KD is all worth it.

Some of the key features of the receiver:-
250 MHz PowerPC Processor (350 MIPS)

Linux Operating System, Open Source

MPEG2 Hardware decoding

100Mbit full duplex Ethernet Interface

32 MByte RAM

Channel change in less than 1 second

Fully automated channel scan

Unlimited channel list for TV/Radio

"The Dreambox DM500S is a Linux and open-sourced powered FTA satellite receiver. With the latest firmware provided, you get extending functionality to receive all satellite channels wide open.

This receiver has an incredible 32 MByte RAM which makes it the most powerful and upgradeable model on the market. An interactive CD-ROM in now included with all the latest software, utilities, and step-by-step instructions."
I had to edit the entry of the last receiver to sync it with this entry when KJ and Hamza commented on it, not knowing anything about this current breach. :P

Anyways... here are some other pics:-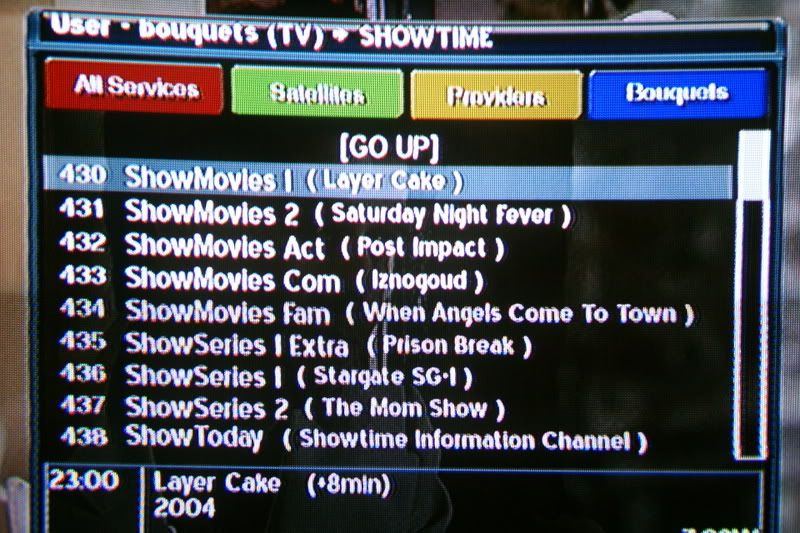 Again and again and agian...
Feeling guilty? No.
Satisfied? HELL YES I AM.