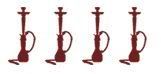 No improvement this week, the exact same amount of shishas as last week (4), but overall it is way better than week one.

Don't consider these as excuses... I had the chance to skip smoking two shishas but I was weak and I gave in.

Situation 1:-
A friend (foreigner) is here on a visit and he wanted to go for shisha. I couldn't say No and I couldn't resist seeing him smoking and I'm not.

Situation 2:-
Stuck at the airport waiting for my brother from 8:30pm till 11:30pm. I had to smoke. Blame it on the delay.

The other two were smoked willingly.

As promised I have not gone over last week's count and hopefully this week I'll narrow it even more.

Wish me luck.
Related posts:-
-
Operation Rehabilitation
-
Operation Rehabilitation | Week 1
-
Operation Rehabilitation | Week 2