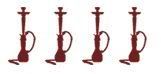 Week 2 of Operation Rehabilitation was irritating not because I haven't had my weekly doze of shishas, but because I was sick in bed for three days.

I don't get sick often but when I do I get knocked down for good. I had no sense of time, no sense of place, and no mental stability during the past hectic days of illness. I have watched The Exorcism of Emily Rose which consequently made me see and feel crazy stuff with my weak state of mind during sickness.

I have also watched Lord of War, Collateral, Apocalypto, Lucky Number Sleven, Saw III, Crash, American History X, Bourne Identity, Bourne Supremacy, and went to see Bourne Ultimatum at the cinema yesterday to move my numb body. (Was about to review all three of them but cece beat me to it.) *MCA MCA MCA!!!*

Anyways, back to my shisha addiction and Operation Rehab... 4 shishas in one week. Isn't that something or what? From 15 last week to 4 this week, I think I will manage to keep the counter blank starting this week. One thing's for sure, I will not exceed the amount of last week's shishas.

Yet again, wish me luck.

I'll leave you with Bourne Ultimatum ending song. Cece shared the older version so here's the new one.
Extreme Ways - Moby [download] (6.3MB)
UPDATE:
Ok, so maybe I wasn't hallucinating! [
link
]

+1 = (20)