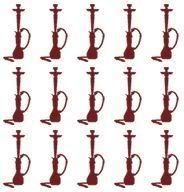 Ok, most of you have noticed my counter during the first week of Operation Rehabilitation and were wondering whether I'm serious about quitting shisha, well don't worry. I am being honest to you and myself and I'll do my best to quit.

Week 1 of rehab was intended to see how many shishas I have in one week. I never forced myself to quit, I lived my normal daily routine to stand on the approximate number of shishas I would have in one week and to be honest I am shocked as much as you are. Yes. I had 15 shishas in 7 days. That's slightly above 2 shishas per day!

I'm not just killing myself with it, I'm ripping my pockets as well. I spent almost +20KD only on shisha. That's almost 100KD a month to kill myself!

After knowing all these quick stats all I can think of is doing anything to quit before it's really too late.

That means this week is the actual start of rehab. Added to the counter you'll see a red line, any icons below the line means I've smoked during rehab. I'll try my best to keep it as clean as it is right now.

Wish me luck.