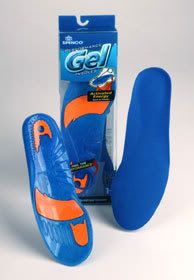 Today I passed by a couple of sport shops to get insoles for one of my shoes and I had a stop at
Foot Locker
at Marina Mall. The guy working there (he was wearing like a construction worker, btw) gave me a simple alternative to normal insoles, he pointed out
SPENCO
Performance Gel Insoles.
When I tried them I felt like sleeping with my shoes on! Simply, they feel so comfortable. I got a pair of size 3 (fits 42/44 shoe size) so I can make sure they pad in my 45 shoes without any troubles.
The nicest part is that they don't catch smell and they can be washed whenever necessary without any trouble.
Price: 6KD
Place: Foot Locker